C02A – 20″ Standard Mist Fan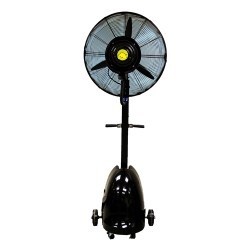 Product Code : C02A - 20" 噴霧風扇
C02A – 20L Premium Centrifugal Misting Fan (20″)
Rental available
What's special: 
Bronze ball valve
Fan motor with rain cover
Better look water tank
Made with thickened material
Features
4 wheels steady go
Economy choice
Medium mist
Good for cooling, dust suppression, odor control (with solution)
It can be in short rental (1 day to 30 days), include delivery and first water filling service.
Dimension
20"  560 x 623 x 1735mm
Power consumption
220V, 50Hz, 180w
Wind capacity
Slow : 1100rpm, 170m3/min

Medium : 1200rpm, 198m3/min

Fast : 1350rpm, 258m3/min

Wind distannce
Up to 5m
Mist duration
Slow : 7 hour

Medium : 5 hour

Fast : 3 hour

Noise
Slow : 55 db

Medium : 57db

Fast : 58 db
C02A is one of the most popular misting fan in Hong Kong.
The mist plate makes water into small mist and the fan blows it out.