A misting fan uses a plate rotator or a high-pressure pump to atomize water, turning it into fine water mist. Using a 25' fan at it's back to project the water mist to 5-7meters. We offer three types of misting fans: ultrafine mist (for indoor), high pressure fine mist (for outdoor), and normal mist (for outdoor).
Cooler and Misting Fan Rentals Service
During the hot season or in stuffy environments, it is difficult for customers to stay outside for long periods. A misting fan, or cooler, is a great way compared to owning a fan as it can sometimes be costly as it occupies space while it is not used (such as during winter time), and the maintenance costs over its lifetime can be unpredictable. Therefore, our company offers misting fan rentals service for short term clients.
Flexible Misting Fan Rentals Period, Reliable Products, and Quality Service
In Hong Kong, space can be hard to come by, and should be considered before owning any fan product. As many of our customers have very limited storage space in their warehouse or little active space to maintain any kind of equipment. A misting fan or cooler can be quite bulky (1.2m x 0.5m x 1.5m), because only a product with a big fan motor can generate sufficient air flow in outdoor environments. This size of a misting fan can also be very tricky if customers are looking to keep one around throughout the winter. In view of this, we have especially offered our misting fan rentals service.
The misting fan rental period can be flexible. It can be as short as 1 day, or any duration you need. In the meantime, we'll polish the fan and cooler so that it is in its best possible condition before use. Also, we take every step to make sure it has a good appearance and functions well at a high hygienic status before we rent it out to any customer. In case of a technical break down, customers can simply call their designated account manager, and they'll solve the problem for you right away.
Our misting fan rentals service is especially beneficial and popular to local customers, such as restaurants, event companies, short-term exhibition organisers, wedding ceremonies and at outdoor sports activities.
Best Operating Environment
Our misting fan is best suited for total outdoor environments, during sunshine, and away from any food or beverages.
The mist water comes out from the front side of the fan. The small water droplets contain more moisture when you stand close in front of it (1 meter), and it will eventually be completely evaporated at 4 meters distance from it. You can opt to pour ice or just room temperature water into the tank. Our standard model comes with a 41L water tank and can provide 5-6 hours of misting time, depending on the valve openness settings. The misty wind produced can provide a cooling effect of 10'c or more, subject to water temperature, for example 37'c to 22'c (equals a -15'c cooling effect).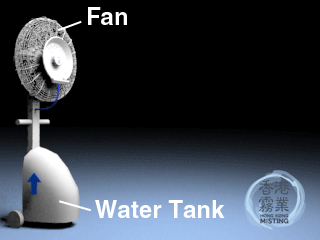 How to choose Misting Fan