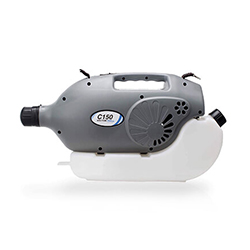 Product Code: ULV15+ Wired

Tank Capacity 6 Litres
Power 220V / 110V
Flow Rate 60LPH
Droplet Size 5 – 50 microns
Net Weight 4.5 kg
Dimensions 63 x 19.5 x 31 cm
WHAT CAN THIS FOGGER DO ?
Lighter and 10dB quieter than previous models, the new ULV15+ has been redesigned to offer the ultimate in fogging performance.
A new specially designed air intake on the front of the machine now reduces the fogger's core temperature by 20°, enhancing its performance under long working conditions. The overall air pressure of the machine has also been enhanced, allowing a spray distance of up to 8 metres at an angle of up to 80°. With a new larger 6 litre tank, 1250 Watt Samsung motor and a fully adjustable droplet size from 5-50 microns, the C15+ will provide years of durability and performance. Our foggers are perfect for applying most types of fungicides, disinfectants, biocides and insecticides.